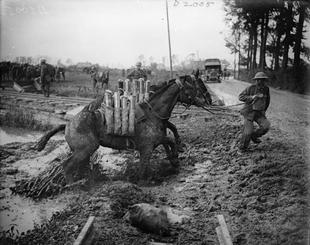 This week, I learned that writing mills suck. I had heard it, we all have, but I had high hopes that my experience would be different than the norm.

It wasn't.

Instead, my experience was, from what I understand, pretty much just like everyone else's - like slogging through mud in the rain. Let me explain:

For the past two weeks I have been working 5 hours a day (in addition to my full time job) writing content for a writing mill five days a week. My typing speed is not exactly like greased lightning, but I can average over 1,500 words an hour, so I was filled with excitement at the thought of all of the dollars that would be rolling into my account at the end of my two week term with this company. The contract I had agreed to would, according to my calculations, give me a grand total of nearly $6,000 to pad my pockets with by month's end. I did a happy dance.
Then reality set in.

The first hit to my accounts came when I realized that, in spite of being able to produce content quickly, I was far too conscientious to produce bad copy for the mill. In order to meet the needs of the clients, most bits of content took a great deal of research. On average this cut my writing time in half. By extension, this meant that my income would be halved. OK, $3,000 would be OK for my first month.

The next hit to my account were the clients and their changing needs. More than once, I would complete an assignment, only to have it rejected outright by a client who had changed his mind about the content he really needed. This not only affected my pay, but the rating I had with the mill as well. Lower ratings meant lower pay. In spite of my having completed the assignment and provided quality content, I was being downgraded. In addition, my fees were cut because I was being given only the "kill fee", which was about %15 of the original agreement.

Finally, I had made an error when reading the contract. My fees, which I thought were simply awful at $0.14 per word turned out to be criminally low at $0.014 per word. I was working my tail off for less than a penny and a half per word. After two weeks of hard work, I had made barely $300.00 after tax. I nearly cried.

Not only had I worked hard for little gain, I didn't even have any decent clips to add to my portfolio. Most of the work that I had produced, if it met the criteria set by the client, was stuffed so full of key words that sounded like I had been writing half drunk. I am not proud of the work that I did and I don't want anyone else to read it. I also found that I had spent so much time writing, I had done little reading and almost no studying. If my hope was to learn about commercial writing while I worked for the mill, I was failing miserably.

At the end of the two weeks I was tired, behind in my studies, behind in my reading, and not much better off financially.

The upside was that I had learned a ton about how not to make a living as a writer and I had done it without actually spending any money. A boon if you're a starving artist - free education. Although it wasn't really what I had hoped to gain from the experience, it was probably more valuable than the of "easy" money I thought I would end up with.

Not a great outcome, but I suppose I will take what I can get.