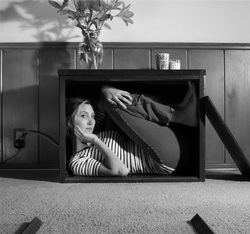 During a long hiatus from this blog, in which time I had a mini meltdown, I took some friendly advice and got to work learning how to better manage my business. One of my first assignments? Draft a letter of introduction. To whom is not yet clear, but I came up with a simple and friendly base to get me started. It will be easy to build it to suit a variety of clients and change it as needed.

My second, and most challenging task thus far, was to revamp my website. I loved the site, but was told it was cluttered and hard to read. It's easy to fall in love with a design that doesn't work. Easier still to convince yourself that it does and the critics must be mistaken. Still, I listened to my mentors - they clearly know a thing or two about the biz - and took it down. What came back up is the site you see here. Cleaner, crisper, easier to view, and altogether more pleasing to the eye. I like it. Well, except for my giant grinning head on the landing page, but perfection is overrated.

The thing about the website, and the rest of this journey thus far, is that getting started was the hardest part. Once I got to work I flew through the job with ease, completing it in less than half the time I had budgeted. I just had to get over myself and get started.

I am constantly amazed at just how easy it is for me, and writers like me, to convince ourselves that we aren't good enough and should quit before someone proves it to us. We truly are our own greatest barriers to success. Sad to be afraid of something so small as failure when there is such a big world waiting out there to be found.

So, as I launch the new site tonight and hope for the best, I tip a glass to me and to writers like me in this brave new freelancing world. We can do this, we must do this. There's too much crap writing on the internet for us not to intervene with quality prose. As for the voice in my head begging me to stop before I embarrass myself?
I'm off to lock that bitch in the closet.

Cheers!