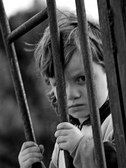 Anxiety in ChildrenInformation and statistics assembled to be part of an infographic for the parenting website Mommy Edition. Graphic design provided by another contractor. Image inserted merely for effect and was not included in the final article.




STATISTICS:
Most Children will suffer from some form of generalized anxiety in their lifetime.

25.1% will have a lifetime prevalence of anxiety.*

10% will suffer some form of chronic anxiety disorder or mental illness.*

For 5.9% the symptoms of anxiety will be severe.*

FACTS:
Symptoms of anxiety can increase as a child reaches puberty.

Girls (30%) are more likely to suffer from anxiety than boys (20%).

An anxiety disorder may begin after a traumatic event.

A predisposition for certain anxiety disorders, particularly GAD and OCD, may run in families.

Anxiety disorders may begin or end without warning.

Anxiety disorders may present as a physical ailment. (insomnia, digestive disorders, etc.)

Symptoms can and do change, strengthen, and weaken over time.

Untreated anxiety in children can become a chronic condition.
COMMON TYPES OF ANXIETY IN CHILDREN
Separation Anxiety Disorder

Panic Disorder

Generalized Anxiety Disorder (GAD)

Obsessive Compulsive Disorder (OCD)

Social Phobia

Post Traumatic Stress Disorder (PTSD)

Agoraphobia
COMMOM SYMPTOMS OF CHILDHOOD ANXIETY
Restlessness.

Fatigue.

Trouble Concentrating.

Irritability.

Muscle Tension.

*National Institutes of Mental Health, NIMH
Copyright 2013, MommyEdition.com
---