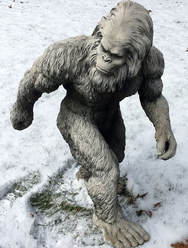 ​I have a habit of buying little travel magnets when I go someplace new. This weekend, while wandering near Mt. St. Helens, I found a unique snow globe with bigfoot in it that said: "I Believe."

Of course, I couldn't resist.

But as I played with my new toy in the car, I pondered what that really meant.

I Believe

Those are powerful words.

If you're a person of faith, of course, it means you accept the concept of the divine and its impact on your life.

If you're a conspiracy theorist, you welcome the idea that we are part of a vast manipulation by powers beyond ourselves who seek to control every aspect of our lives and futures (seriously, anyone who has ever watched Congress in action should toss this one.)

As a writer, it means you trust that your skill is great enough, or that your ability to learn and improve is keen enough, that you can create something of benefit to the world.

This last one is what I, and most other creatives I know, struggle with most.

It's not that we aren't capable. It's that we lack the confidence – almost to a person – to consistently credit ourselves with any real talent.

Even the most prolific writers I know suffer from this lack of morale from time to time.

So, how do we overcome?

How is it possible to cast aside all doubt, even after a terrible review, and embrace the idea that we have a gift – the desire and ability to do something others cannot?

By stubbornly refusing to believe anything else.

I wish I could tell you there was a magic formula here that would give you instant results and send your confidence soaring, but there isn't.

Only through practice, self-affirmation, and continued work will you ever begin to feel as though the work you do is worth something.

And that's not the worst of it. That praise you hope for, the stuff that comes from outside sources? It doesn't help.

Relying on others to determine your worth is a fool's game. If you cannot summon the fortitude within yourself to see you like the wonder you are, no outside source will ever do. Those little nibbles will just set you off in search of more, like a drug that never quite fills the void.

If you cannot look within yourself and find your worth, no one else's opinion will ever be enough.

This need for self-realization is true in all aspects of life, but especially so when you seek to create. You must believe that your creation has – or will have – worth and go for it.

I've talked to writers who insist that they will feel accomplished and have more confidence when they've finished that class or sold that first book.

They're right; they will.

For a minute.

Because as soon as that book hits the shelves, they will start worrying about sales, discovery, and critical reviews.

The moment they finish that class, they will realize how much more they have to learn.

It's a never-ending cycle that only sets us up for failure.

The confidence that you should do must come first, as must the belief that the world will be a poorer place if you don't – even if you need to fake it.

And before you start thinking that your work isn't nearly good enough, remember that someone published a series of books for kids about a bald guy in his underwear. If you don't think you can do better than that, you haven't been paying attention.

I've said it before, and I will continue to say it as often as I must to make you believe it – you are special.
Not "snowflake, take care of me because I am a fragile thing," special, but unique. A one-of-a-kind piece of a larger puzzle without whom the world would be a darker, more incomplete place.

The world needs you, whether you can see that now or not, it's true. I urge you to accept that burden – the burden of your gift with joy and grace. You may never be a critically acclaimed author who makes millions, but you just might write the words that save a life, buoy a soul, or create the desire in someone else to learn more or to be more.

You were given this gift for a reason. You may not know why now, hell, you may never know why, but it is here, and you owe it to yourself to own it, nurture it, and share it with the world.

Even if you don't feel like you're worthy.

​I believe in you and you should too.