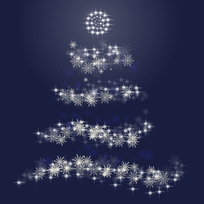 ​The holidays are upon us again, and that means roughly a billion distractions will intrude on your business and writing life. There are ways, however, use this chaos to your benefit and stay productive even when the world comes crashing in.

Grab an eggnog (or whatever drink you favor) and stay with me for a minute as I show you how to make this holiday season your most productive yet.
Work In Bursts. By scheduling your work in short bursts of activity throughout the day, you can get whittle away at big projects rather than being overwhelmed at the end of the day when you finally have time to sit down.

Rise Early. Getting up a half an hour or more before you normally would, can give you that extra bit of time to devote to projects. You can also consider staying up late, but I find that by the end of the day my mind is ready for rest and I'm not nearly as effective. Of course, you might be different.

Delegate. There are certain holiday activities you can delegate to others to free up more of your time. Hire a housekeeping or lawn service as a gift to yourself and let someone else take care of the tidying up while you concentrate on getting work done.

Consider Daycare. I know, this one goes against the grain. You decided to freelance from home see you could spend more time with the kids not less. Consider it this way though if you're frantically running around trying to get your work done and then concentrating on chores, shopping, and getting the house ready for holiday visitors are they getting the best of you? Rather than trying to do it all, give them a couple of hours to have fun with friends while you focus on what needs to be done. That way when you're together, they'll get your full attention.
​
Batch Projects. By bundling similar projects together, you can make it easier to focus and get more done. For example, set aside half an hour to answer all your emails or focus on social media posting or marketing. Do only those jobs during that prescribed period. When you're done move on to something else. By giving each type of task your total focus you avoid distraction and accomplish more in less time.
​
Collaborate. If you have a network of writers and artists you can rely on, get in touch with them. The holidays are a great time to come together to complete challenging projects. This is particularly true if you're able to exchange services with one another or if you have more work than you can handle and need to subcontract.

Embrace Online Shopping. One of the biggest time wasters for me during the holiday season is shopping. I really, really hate shopping. The idea of spending hours in my car driving from shop to shop and looking for just the right gift fills me with anxiety. Thanks to the many online services available however I save hours of browsing and gallons of fuel by searching for the things I need online and having them delivered to my office. As a bonus this online shopping allows me to see which businesses in my area are in need of the capable copywriter to help them boost their presence.


​Recycle Content. While most of the content you post to your website should be at least 90% original, during the holidays you can save yourself a great deal of time by repurposing older content that was well received. Consider rebranding of blog posts, list article, or infographic that people found especially helpful. This can be a good reminder for current readers who've already seen it and would like a refresher and could draw in new readers who haven't seen it before. Just make sure you note that it's not original content, so your readers don't feel like they're being shortchanged.

Revisit Old Topics. Most of the projects you do will require research. Often the more unfamiliar the topic, the more research you will conduct. Much of that research material won't appear in your article and will instead lie in a file somewhere unloved and forgotten. Revisit some of the information to see if you can't use it to create something new that might appeal to your readers.

Embrace Dictation. Dictating notes to yourself is a great way to get information down when you're on the move. If you're traveling a lot or busy doing the hard cosmetic work that the holidays are bound to require you can grab a recorder or use a recording app to make notes you can use later. It's also great if you're trying to rough out an idea for an article, project, or blog post.

Make a Plan. One of the most effective things you can do is to create a roadmap to get you through the holiday season. Schedule the activities and projects you must complete, set aside time for family activities, and note where you have extra time you can devote to personal projects.
​
Work Ahead. If possible, schedule your marketing efforts in advance particularly those that can be handled without your input. For example, if you're using social media as a way to reach new readers you can set up a few posts to go out at set times automatically. This will free you up to do other things while keeping your feed alive.

Take Time Off. The simplest way to avoid overworking this holiday season is to take time off and just bag the grind. If you can- great! If you;re like the rest of us, however, that might not work out so well, but it's something to shoot for next year.

Forgive Yourself. At some point in this glorious process, you are going to fall flat on your face. That's a given. And it's okay. There's only so much one human being can do. Forgive yourself, dust yourself off, and move on.​
By having a plan and executing it, you can keep your business running smoothly and enjoy all this holiday season has to offer without working yourself into the ground in the process.