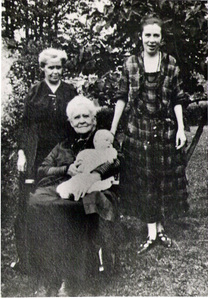 There is a picture on my wall. It is a simple composition. A black and white shot with three women posing for the camera outside. The elder one sits holding an infant in a christening gown. All smile happily for the camera, a moment in their lives captured forever on film.

There is nothing remarkable about this picture. No historic photographer staged it. It does not sing to the balance of light and shadow. It does not capture any great historic event. It is a simple, amateurish shot. It is remarkable only in the meaning it holds for me. The women in the photograph, taken in the summer of 1925, represent three generations of my family. The baby is the brand new fourth, looking off into the distance at some unknown distraction. Perhaps contemplating her own future and the wonders she will behold. She is held safely in the arms of her proud Great Grandmother, the inimitable Florence Benjamin. The child is my own Grandmother. She is tiny and round. She is perfect and beautiful and new. And now, she is gone.

I have always been fascinated by this picture and its simple story. My Great Grandfather, patient, wonderful man that he was, thought it would be nice to capture four generations in this stalwart family. Together for all time gathered round this new tiny gift. His daughter. Each woman wears the costume of her age. The tiny child in her gown. Her mother, dressed in the straight, boyish cut that was so popular in those times. Her own mother wearing a much longer, loosely constructed gown of dark fabric, which covers her her to the ground, only a slight vee at the neckline showing any sign of immodesty. And the matriarch, dressed in full flowing skirt to her ankles, lace collar to her chin. Only her hands and face are clearly visible. She sits straight and proud, looking into the camera as if to say, "This is our future, come see what she will do." Her white hair pulled back into a loose bun atop her head. She is a charming throw back to an earlier time. But, I suppose now they all are.

This photo offers me a fleeting glimpse of a time long past. A tiny window into the lives of the women that made me. I never thought of this photo as sad until this week, when my Grandmother fell ill and then, suddenly, she was gone. A light always burning, an ever present force in my life suddenly absent with no warning. I felt shock and horror that such a stoic lady could be taken so quickly, even as I felt grateful that she did not languish as so many others had before.

I struggled with my feelings for these events. Like anyone, I was filled with sorrow and regret. I wept for times gone and for time lost to my own hectic schedule. I wept for the phone calls not made and the letters not written. But more, I was filled with a sense of sadness and wonder as I gazed upon this photo. No longer was it my grandmother and her long dead family looking out at me. Now it was a woman I had loved at a time when she was fresh and new and the world was still ahead of her and full of potential.

Now, I look at this tiny face. These sweet round cheeks, so like my own sons when they were babies. Now her potential is spent. Her time is gone. The wheel has turned full circle and she is no more. I have spent the better part of the week since her death writing furiously. Turning my pain into prose and trying to find a voice for the loss I feel. In the end, it cannot be exercised. I did not do enough. I could never have done enough. In the end, a life so precious to me is done and I must go on without it.

I cannot do more for her than what I have done. I cannot give more than I have given. I can only be grateful for the gifts that she gave to me. My love of words. My passion for new stories. My complete intolerance of idiots. My very life. All exist because she lived. For that I am eternally grateful. If I did not say so enough in life, I will tell her now with every word I write. With every tale that I tell and every photograph that I add to our family album. My grandmother gave me so much in life. So much more than she could have known. If I had the chance to hold that tiny child in my arms and say anything, it would be simply this: Thank you. Your gifts will not be forgotten.
---